Marina Meliande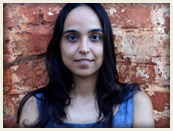 Marina Meliande was born in 1980 in Rio de Janeiro, Brazil. Marina is both a director and editor. She studied at the University Federal Fluminense and at Studio National de Arts Contemporains – Le Fresnoy, in France. She co-directed with Felipe Brangaça the short films Waterbound and His Name (the clown) and the feature trilogy Heart on Fire including The Escape of the Monkey Woman, selected to Locarno Film Festival 2009; The Joy, World Premiere at Director's Fortnight, Cannes Film Festival 2010; Neverquiet (Film of Wonders), collective film, selected at Rotterdam Film Festival 2011. At Le Fresnoy Marina has made two video installations: Lettres au Vieux Monde and L'Image qui Reste Image. As an editor, she worked on more than 50 films including Swirl, Found Memories, La Quemadura, Olmo and the Seagull. She is currently working on her first solo film, Sultry, which has been supported by Cinefondation's Residence and Hubert Bals Fund.
Felipe Bragança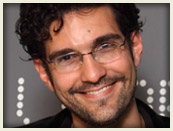 Felipe Bragança was born in Rio de Janeiro. Started his career in 2003, directing shorts films and co-directing low-budget experimental features alongside his creative partner Marina Meliande. He co-directed with Marina Meliande the short films Waterbound and His Name (the clown) and the feature trilogy Heart on Fire including The Escape of the Monkey Woman; The Joy and Neverquiet (Film of Wonders). These films were presented in important film festivals such as Cannes, Locarno, Berlinale and Rotterdam. Since 2005, Bragança also works as a regular creative partner in Karim Ainouz's feature films scripts, such as Praia do Futuro (Berlinale Competition 2014). As script writer he also has written Girimunho (Venice 2011) and Heleno (production by RT Features). In 2013, Bragança was invited to the DAAD-Berliner Kunstler Programm in Berlin, to develop the script of his first solo feature film: Don't Swallow My Heart, Alligator Girl!.
Daniel Caetano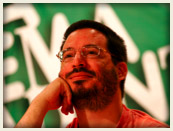 Daniel Caetano was born in Rio de Janeiro in 1975. Has produced and directed the feature film Conceição – the only good author is the dead author (co-direction), the documentary O Mundo de um Filme (The World of a film), and the shorts A Missed Future and Santa Claus has green eyes. He also directed the play The Stronger, based on Strindberg's classic text. Collaborator of some film magazines, such as Filme Cultura and Cinética. Has organized two books: "Brazilian Cinema 1995-2005 – Essays on a decade" and "Serras da Desordem". PHD in Brazilian Literature at PUC-RJ, he teaches at Universidade Federal Fluminense. He is currently developing the feature film Strindberg and I and he is also producing and co-directing the collective film Blame It On Riot (Rio Pegando Fogo).